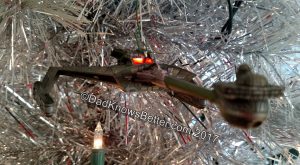 I have enjoyed Star Trek since I started watching re-runs of the original series when I was in elementary school in the early 1970s.  So when my mother-in-law saw the original U.S.S. Enterprise Hallmark ornament orbiting a tree in a hair salon in 1991, about after a year after my wife and I were married, she started scanning; but that ornament was already sold out everywhere.  I still do not have it–and at a current asking price of approximately $200 online, I'm OK with that.  (Fan does not have to equal fanatic.)
But my M.I.L. immediately realized she had stumbled upon a potential annual present for my November birthday and Christmas, starting in 1992.  Over the past 25 years, she has beamed quite a few ornaments my way, including ships, characters, and scenes, drawn from the original series (TOS), Next Generation, Deep Space Nine, Voyager, Enterprise, and 3 groups of movies…all of the possible corners of the franchise.
Now, while my wife is not so fond of my Star Trek collection, I managed to establish a Prime Directive:  Ban my ornaments and risk The Wrath of Your Mother.  (Cue Mrs. DKB:  "Maaaaaaaaahhhhm!")  Then we entered a final frontier a few years ago when my M.I.L. gave me a silver tree which has become a galaxy completely separate from our actual Christmas tree–which seems appropriate, as the Star Trek collection is really
just a fun complement to the spiritual and family focus that has always been the true center of the holiday in our house.
After 25 years, the collection is here to stay.  I enjoy it.  The kids enjoy it.  And my wife even surprised me this year by setting up the silver tree and deploying the ornaments while I was out of town picking up our oldest daughter from college.
Merry Christmas.  Happy New Year.  And Live Long and Prosper.
Note:  I did not receive any compensation or consideration related to any part of this post.  In fact, the idea that the people at Hallmark or Paramount have ever heard of DKB is not…..logical.