Students around the country will receive their Preliminary Scholastic Aptitude Test (PSAT)® scores in the next few weeks.  When I took the PSAT, in the days when dinosaurs (along with Ronald Reagan, Michael Jackson, and Magnum, P.I.) ruled the earth, a college-bound student's world was different:
We only took the test once–in 11th grade, as part of the National Merit Scholarship competition.
We took it on Saturday.
There was no direct preparation in school.
Today, high schools often offer the test for 9th, 10th, and 11th grade students.  Freshmen and sophomores take the PSAT to help them prepare for their junior year attempt, which is still the score that counts for National Merit consideration.  In many cases, high schools actually pay for all of their students in certain grades to take the test, and it has become common to offer the test during weekday school hours and to align some instruction with the form and content of the test.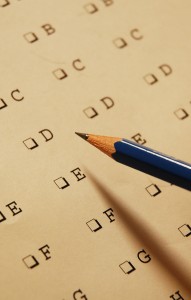 A Great Investment.  As an educator and as a dad, my advice is for students to take the test all 3 years, if possible.  In exchange for a relatively small fee (currently $15, although schools are permitted to add a small additional fee to cover administration costs if they choose), and a few hours of their time, kids receive great value:
Scores that predict their current readiness for the Scholastic Aptitiude Test (SAT)®
Some of the most detailed feedback offered through any standardized test, as they receive their original test booklets along with score sheets listing their answers & the correct answers
The opportunity to receive advertising and recruitment mail from dozens of colleges based upon test performance & geography
In addition, after taking the PSAT in October of their junior year, students with the highest scores in each state are notified that they have qualified as National Merit 'Commended,' 'Semi-finalist,' or 'Finalist.'
Like any standardized test, the PSAT has its own 'scaled' scores.  These scores offer predictions of the student's performance on the SAT.  But I encourage students to focus on percentile scores to evaluate their strengths and areas for growth.  Percentiles are much easier for most students to visualize, and they simplify comparisons between completely different types of test.
Junior Moments.  Our 16 year old daughter took the test in 10th grade and again this year as a junior–her school does not offer a 9th grade administration.  I learned long ago that when she sinks her teeth into a project my best option may be to stay out of her way.  So over the last 2 summers she has spent time working through an old PSAT prep book from my classroom teaching days–her choice, because she wanted to take her absolute best shot at her 11th grade PSAT.  In another couple of weeks she, and over a million other students, will find out just how well she did.
Note:  DadKnowsBetter received no compensation of any kind related to this post.  The opinions expressed here are my own.