Like many families, one of our favorite activities is a weekend movie night at home.  With 2 adults, 2 teens, and a 9 year old in the audience, finding a film to make everyone happy can be the biggest challenge; but it is worth the effort.
To get started, I like to throw out the food pyramid and indulge in a fun but don't-try-this-on-a-regular-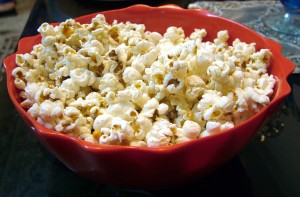 basis menu, brought to you by the freezer section at Costco.  Crowd favorites include pot stickers, fried wontons, mini-bagel pizzas, mozzarella sticks, and appetizer quiches….maybe even some popcorn.
That takes care of dinner, but what about the show?  Over the years we have enjoyed many easily predicted winners, such as Home Alone, the Harry Potter series, How To Train Your Dragon, Looney Tunes collections, and several Marvel super hero blockbusters.  But we have also stumbled across some that went from "never heard of it" or "not sure what that is" to "that was a lot of fun."  Here are two:
Unaccompanied Minors–Did this  movie ever have a run in theatres?  I had never heard of it–but we had fun.  A group of high school kids from different backgrounds wind up stranded in an airport during a blizzard.  "Aquaman, men are made, not born."–Words to live by.  Fair warning:  Some lightly crude humor, but rated PG.
Hoodwinked Too:  Hood vs. Evil–This DVD clicked for us even though we had no idea that the 'Too' in the title actually meant 'sequel.'  Not a problem.  As our story begins, we find that Little Red Riding Hood is a combination secret agent/ninja.  What's not to love?  There is plenty of play on words to keep the adults on board, such as the Big Bad Wolf's notsalgia:  "I went through my bad boy phase. Rode a bike, greased my hair back, lived over Richie Cunningham's garage, water skied over a shark tank. Those were some Happy Days."  Word to the wise:  Do not leave the room whenever the singing goat turns up.
Neither of these movies is lined up for the next AFI 100, but there is fun to be had in movies that did not win awards, make a fortune, and spawn a string of sequels and a TV cartoon series.
Speaking of the AFI 100, there are times when our "family movie night" shrinks from an audience of 5 to an audience of 3 or 4, and that's ok.  As an example, introducing our older kids to Schindler's List had to happen on a summer night after their little brother had gone to bed.  His time will come for some of the more 'grown up' films…To Kill A Mockingbird, The Sixth Sense and Alien, but there is no rush.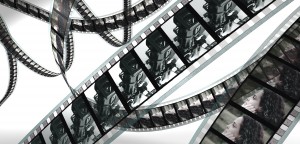 Of course, if a 'thumbs up' is going to mean anything, there also have to be some thumbs pointing down.  4 out of 5 family members surveyed found Nim's Island to be a 'we probably don't need to watch that again.'  (One maternal unit strongly disagrees with this rating.)  Home Alone 3?  Not a favorite.
Family movie night is as much a part of our "family literacy" as vacation and holiday experiences. We pepper one another–sometimes insufferably–with funny quotes that seem to fit a moment.  A simple phrase, such as "You are one lucky bug" from Mulan or "Why did it have to be snakes?" from Raiders of the Lost Ark makes a connection.  And that's what family movie night is all about, Charlie Brown (There's another one…).
Note:  DadKnowsBetter did not receive any compensation of any kind related to this post.  All opinions are my own….including the lukewarm-at-best rating for Nim's Island.