Like many parents, I've believed my daughter would be heading to college since before she was born.  She accepted an admissions offer months ago, so you could say that since then we've known not only THAT she would be going, but WHERE.  But it became real on a different level one night in August.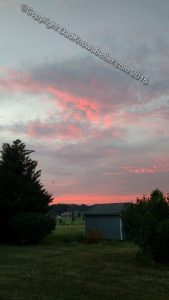 We had just gotten back from vacation, and while we were away at the beach her year-round swim club had held the final practice of what had been her final season with the team.  I was having a routine evening when all of a sudden she volunteered:
"I texted Coach to ask if I could practice with the team when I'm home on breaks.  He said they would love to have me there."
And that's when I felt it.  A deep sense of quiet.
I'm happy for her and a little envious of the adventure she's heading into.  I loved college, and I hope she does, too.  But that's when it became real.
She's only going one state north, maybe 2 hours or so away, and since she'll be swimming for the school I'll have easy excuses to drive up to visit once in a while.  So we'll see her.  But…
In one of the books I used to read her when she was tiny–I can't remember which one, but if it rings a bell, please help me out with a comment–one of the very young characters "got kind of quiet" for a few minutes when a situation became unexpectedly real.
I'm there.